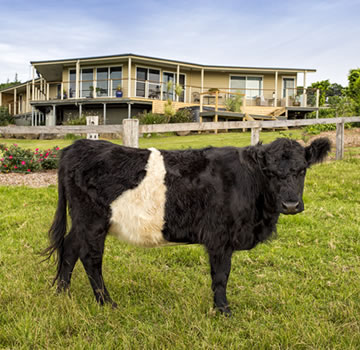 About Amazing Secluzion
I am so proud of my efforts to create "Amazing Secluzion"! It has evolved into a very special rural residence that guests keep returning to visit.
To think that the house was only a shell when purchased a decade ago!
The "uninterrupted rural & ocean views" were the feature I had to search for again after having to sell my 1870's Milton homestead (a 20 year restoration).
A retired biology teacher of 27 years, I now have the pleasure of living in a truly amazing location where i used to bring school excursions.
The antiques in the residence have been sourced over my lifetime! Many have been restored by myself to finish "Wynella" homestead. Others are family heirlooms and have great sentimental value (e.g. my grandfathers cast iron farm gates from family farm in Finley).
The residence now has such an atmospheric appeal, I just love it!
I feel so privileged to be able to share such treasures from our colonial past with my valued guests.
I have come to understand that although not popular as investments nowadays, the mass appeal of such quality hand made treasures will always be appreciated!
And now the opportunity to share this special atmosphere with guests on their wedding day is another step in the constant evolution of my "Amazing Secluzion".
To all past guests this is a big "thank you" for all your loyal support and I look forward to meeting all the new guests during the years ahead!
Sincerely